Contact
Proceeds from the sale of the book are being donated to animal welfare organizations.
Groups, schools, libraries, reading enrichment programs and animal welfare organizations can obtain the book at a discount through Mirror Publishing, Milwaukee, WI.  

To book readings or signings in Southern California, contact
 Laura Marlowe
laura@tommythethrowawaydog.com
Readings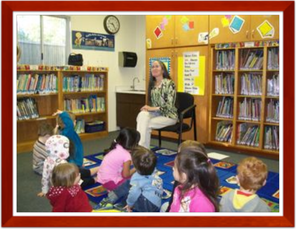 Laura will give readings of Tommy the Throwaway Dog and engage in question-and-answer discussions free of charge.  Readings and Q&As generate important dialogues about kindness toward our animal friends and all living beings; the role of animal shelters; Tommy, and the people who gave him a second chance; justice; respect...and the magic and importance of reading.  
Invited to appear at schools, libraries, bookstores and special events in California and elsewhere to share Tommy's story and its message, Laura looks forward to meeting you and inspiring more youngsters of all ages!
Comments from principals, teachers, librarians, classroom aides, directors, board members, humane educators, and parents:
"Laura, you were spectacular.  Your reading was absolutely incredible and the emotion of what occurred with Tommy shows in your presentation. " 
"I loved hearing the love in your voice as you read Tommy the Throwaway Dog.  We will definitely have you back to read your other book."
"Ms. Marlowe, we have had a few authors visit us over the years, but I have never seen such a great presentation as yours.  Thank you for everything; you are amazing."  
"We love your books.  Now we will go back to our classroom full of more education and inspiration."
"I love you, love you, love you.  Ms. Marlowe, thank you and God bless you for sharing your stories and your love of reading while inspiring my kids to read more often."
Laura,
"I was trying to put into words how grateful we all were to have the opportunity to spend the day with you.  I received calls from parents saying how much their kids enjoyed your presentation.  I also received an email from a student's Mom in which she indicated how touched she was by the affect that you had on her son.   He asked both her and her husband to listen to him read his copy of Tommy.  If you need to know what impression you left, that is the one that I would take to heart.
After meeting you and having you sign her copy of Tommy, our daughter talked about how she wants to help out in the animal shelters and help keep animals "happy"..so I cannot say enough what an impression you made.
I appreciate your warmth and kindness. I will send you copies of the pictures I took so that you can always be reminded of how much you have made a difference."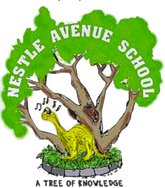 "I love your book. I think the person who harmed Tommy doesn't have a heart"
Henry T.
"THANK YOU!!!  It was wonderful to be able to introduce these kids to Tommy and to an actual author.  I know that I would have been very excited about that at their age. Having an author come and speak to the students is something I dreamed of. Your generous contribution of your time has made that possible and I am forever grateful." Deanna Kazdoy, Librarian
"I loved this story, especially the part where he first wagged his tail"
Carmen R., Ellen Ochoa Learning Center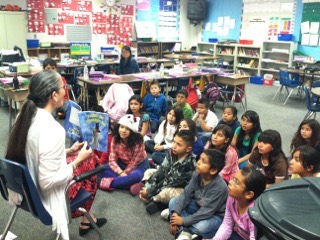 Your gift of time and passion for writing had an extremely positive effect on Villacorta!  We look forward to hearing from you in the near future. Sylvia Cadena, Vice Principal, Villacorta
Thank you again so much. It is we who were lucky to have you visit our students and share your story. Thank you so much for sharing your words of kindness and moral principles we should all follow towards humans as well as animals. I know the students as well as teachers enjoyed having you with us for the day. Lydia Narcisse, Program Specialist, Villacorta
I just wanted to take a quick moment to thank you again for your visit to Villacorta. Both students and teachers thoroughly enjoyed the story about Tommy. It was truly an honor to have a "real-live" author share a book with our students and their parents. I heard many great things from students about the video as well. We appreciate your willingness to spend a very long day with us, and we hope to have you visit us again.  Heather Craven, First-Grade teacher, Villacorta
Thank you for coming to our school and giving presentations to our students during the Authors Festival.  All the staff and students were very excited, and the students benefitted so much from your presentation.  You stirred up students' imagination and enthusiasm for writing.  Your presentation was interesting and useful, especially the idea about protecting animals and your personal experiences with keeping dogs.  The students loved the story of Tommy!  Though your stay was brief, the impact was great and your presence cultivated the students' desire to write.  On behalf of the Alhambra Educational Foundation and all our teachers and students here at Ramona, thank you for your efforts. Barbara Wong, Principal, Ramona Elementary
Dearest Laura,
THANK YOU again!  It was such a special visit and the kids loved the story.  Today the children continue to pick up the story and read it over and over!  
Best, Charity Britton, First-grade teacher
"I wanted to thank you for your readings here at Pacoima. We appreciate your time and effort working with our students.  The students and adults enjoyed your book, as well as your presence."  Merris Weber, 2nd Grade Coordinator, Pacoima Charter
Lake View Terrace Public Library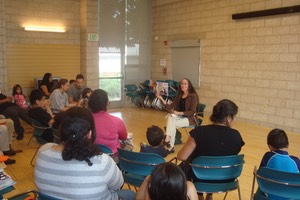 It was wonderful meeting you today. Thank you for sharing your book. Thank you also for bringing Miss Chloe. She was such a gracious and loving guest. You are a great pet parent. Chloe is beautiful and so well behaved.
Everyone enjoyed hearing about "Tommy the Throwaway Dog".  Your reading was warm and filled with joy and hope.
It is such a great service you are doing with your book with regard to animal care and society's need to respect our animal creatures.
The message was strong and clear that as humans we must respect animals as we should human beings.  It is indeed something that society has forgotten.  Thank you for reminding our children of this basic fact with your book.

"We really enjoyed and appreciated having you at our school to share your inspiration and your passion with our students." Sharon Sweet, Principal, Elizabeth Street Learning Center


Book readings held for students at Elizabeth Street Learning Center in Los Angeles inspired a variety of insightful, creative, and intelligent questions and comments that were a pleasure to address; samples of these, as well as some photos, are posted here.  A few of the readings were taped by KNX NEWSRADIO and KTLA-5.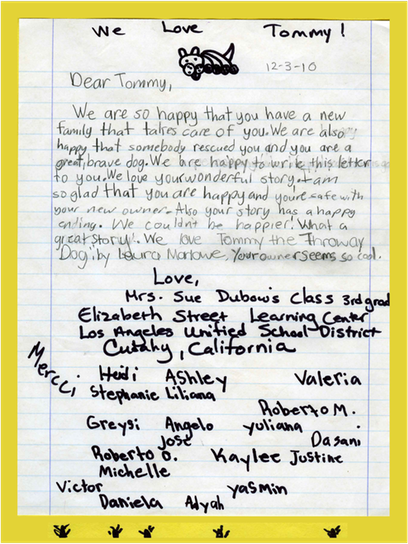 "Can I meet Tommy?"
"Why did the policeman take photographs?"

"Why isn't she going to stay in jail forever?"

"What did the shelter people do for Tommy?"

"Why did the shelter need money for Tommy's care?"

"I think it's nice to adopt an animal from a shelter."

"Why did Tommy's first owner throw him into the trash?"

"Why didn't she just give him away or sell him if she didn't want to take care of him?"

               Letter from Sue Dubow's 3rd grade class

Poochapalaooza!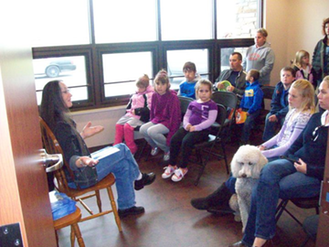 "All of us at Horseshoe Lake Animal Hospital want to thank you so much for coming to our PoochaPalooza. I was so amazed to see how the children reacted to your book reading.  They asked some very good questions and were so interested." Cathy Green, Horseshoe Lake Animal Hospital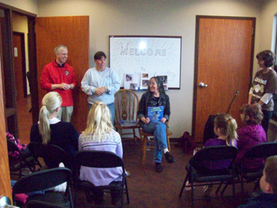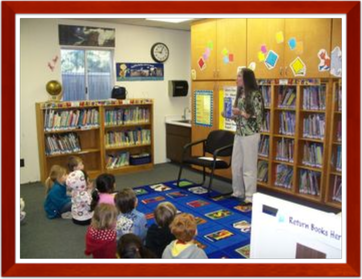 A Message from Ann Gillinger, Head of CHA

Second semester began with renewed energy as students stepped up to the next level of challenge both academic and social. Basketball and soccer, arts and technology, a visiting local author, and a Middle School cultural field trip to see the amazingNew Shanghai Circus at the Thousand Oaks Performing Arts Center rounded out this busy first week. 
Author Laura Marlowe came to read her book titled Tommy the Throwaway Dog. It is a story about an abandoned dog who was thrown away, found, placed in a shelter, and eventually adopted by a loving family. The children had an opportunity to ask Ms. Marlowe about the true story and learn many things about pets, shelters, and animal adoption. It was a great story illustrating caring and responsibility. CHA now has a copy of this book available to check out.

"It was our pleasure to have you come read to the children, all of whom were engaged and inspired by your wonderful story."
C. Schwaber, Librarian, Chatsworth Hills Academy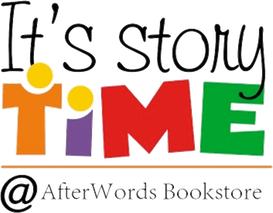 "I would LOVE LOVE LOVE to have you come to my store.  I ADORE your book and have read it for story time a few times.   We would have quite a crowd here for your signing as Tommy's story and now your book is a favorite in this town!"
Rebekah Shelton, AfterWords Bookstore