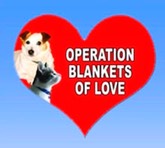 Therapy Animals Helping with Rehabilitation
By Myra Davis
Animal-assisted therapy (AAT) involves the use of animals to help humans deal with physical or emotional issues. While humans have enjoyed a long relationship with animals, it wasn't until the 1700s that an association with animals and therapy occurred. Therapists discovered that children were more responsive to treatment when an animal was involved. Over time, scientific studies analyzed the effectiveness of AAT, with startling results. Though AAT may not be as mainstream as some would like, it is much more common to see dogs, cats, horses, and dolphins serving in therapeutic roles.
http://www.bestdrugrehabilitation.com/additional-resources/therapy-animals-helping-with-rehabilitation/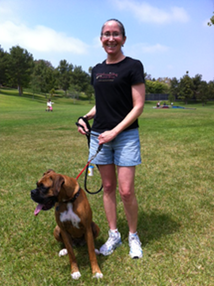 The Pet Rescue Center
I appreciate this wonderful Mission Viejo, CA rescue facility's compassionate, hard-working staff and all they do to give needy animals a second chance.  As a supporter, I enjoy promoting and donating to their special causes, attending events, and meeting critters looking for a new home.
Many thanks to all of you for helping the Pet Rescue Center continue its vital work.   
 http://thepetrescuecenter.org/ 

 Paws 4 Healing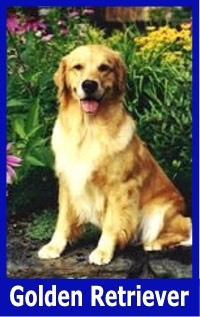 Paws 4 Healing is an all volunteer, 501(c)(3) non-profit organization in California whose volunteer teams provide animal-assisted activity and animal-assisted therapy services for healthcare facilities, schools, and other kinds of social agencies.
They are dedicated to the healing of mind, body, and spirit through the unconditional love of our pets, and are proud to be an affiliate group of Delta Society® Pet Partners® program since September 2003.
Please take a moment to explore their website and discover what Animal-Assisted Activities and Animal-Assisted Therapy is all about.  I am proud to have introduced Tommy the Throwaway Dog to some of the organizations' R.E.A.D. members (and their beautiful therapy dogs), some of whom are using the book in their work to help children feel more comfortable reading and gain confidence and valuable reading skills. 
WEDNESDAY, JANUARY 11, 2012
Animal Welfare Activist and Children's Author Sends Books to HB!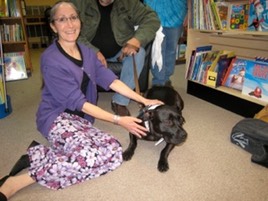 California children's author, animal welfare activist, and literacy advocateLaura Marlowe was inspired to write Tommy the Throwaway Dog  --based on a true story--  that is being used to educate youngsters and students about the value of kindness to all and the importance of empathy.  The book is also available in Spanish:  Tommy el Perro de Usar y Tirar.  Laura learned about Tommy quite by accident, thanks to her love of reading and concern for animal welfare.
Laura generously decided to share some copies of her book with the kids at HB, and here's how she found out about us: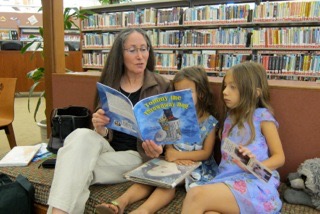 After the book's release, a friend of mine, who runs a children's support program in Yucatan State, obtained 40 copies of the Spanish version of the book for her students to help educate them about the right way to treat our animal friends while at the same time add to their reading enrichment.
Some time afterward, I decided to donate some copies of the Spanish version to either a school or library in the Yucatan; during my research of candidates, information about Hekab Be popped up.  I gladly read all about it and was SO impressed and inspired by this nonprofit library and educational center. Happily, the book eventually made its way down to Hekab Be thanks to one of the kind volunteers and is currently being read by the patrons.
I am happy to know that the children who visit Hekab Be have opportunity to enjoy the story and the book's color illustrations while learning its important message, and that the book can facilitate animal welfare discussions and projects at the library.  The book continues to make impact on children and adults in the U.S., including Puerto Rico, and abroad, utilized by a variety of reading enrichment and animal welfare institutions in classes, programs and special events, and added to many home bookshelves and school libraries.
Currently associated with Reading Is Fundamental So. Cal, (and formerly with Adult Literacy Program of Greater L.A.), I deeply appreciate the folks that worked together diligently to create Hekab Be and all the staff and volunteers that continue to enlighten, encourage and inspire the patrons and visitors in so many areas and subjects.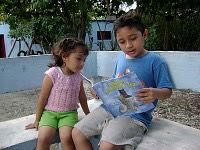 Tommy and Hekab Be go together well as they both are symbols of the value of kindness and the possibility of second chances.
 I hope to pay a visit to Hekab Be before too long and meanwhile wish everyone Happy Reading and Happy New Year!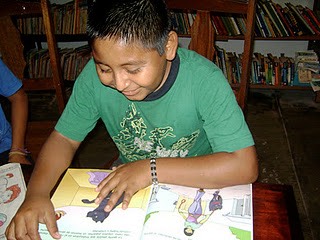 Operation Blankets of Love (OBOL)

We collect, transport and distribute recycled and new pet-related items to comfort stray, sick, neglected and abused homeless animals in shelters, rescue groups, sanctuaries and foster groups. In addition, as an Emergency Response Team, we partner with those organizations to provide relief and comfort to animals that are displaced or endangered by catastrophe.
Our name is our mantra. Our shirts give people a way to express greater compassion toward human beings and animals. Our passion is creating a heightened awareness of the millions of dogs that became homeless through no fault of their own. Our mission is to educate the public that rescue dogs are not flawed; like humans, sometimes they need a little guidance and understanding. These wonderful creatures need homes where their lives and the lives of their owners can be transformed for the better. We want people to know the extraordinary benefits of adopting a rescue dog including the virtues bestowed upon the planet and the soul. Won't you join us in our quest? Wear the Change, Live the Love!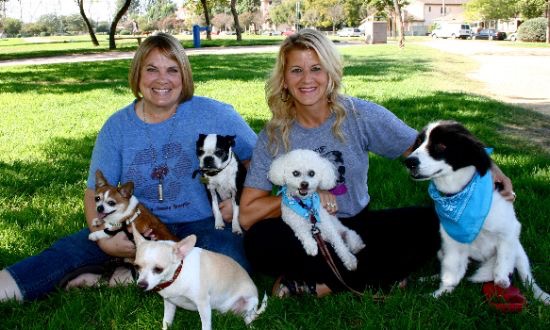 The desire to educate about how dogs really end up in rescue situations will resonate in some of our t-shirts, on this site and on our blog. Caryn's experiences writing for a variety of publications and organizations about rescue dogs drew her to create her book, Underdogs; a dance of storytelling and information. 
Bella's Sanctuary
Born from the love of a special member of our family, Bella's Sanctuary rescues at-risk dogs in need of transition to a forever home.
Our puppies are having fun in the sun this August, but are still looking for that forever home. Please help us by spreading the word and sharing our page... you never know who might be looking for that special four-legged friend...
Rescue Me Inc.
SECOND MONDAY OF EVERY MONTH

Have a Meal and Save a Life Fundraiser  
Time:  10:00am to 10:00pm
Where:  California Pizza Kitchen
6600 Topanga Canyon Blvd.
Canoga Park, CA  91303
Phone:  818-704-0149
Dine in or take out!  
20% of the proceeds from your order go to Rescue Me Inc. to support their ongoing rescue/rehabilitation/adoption efforts and their wish to create a no-kill shelter.  Please mention that you are ordering on behalf of Rescue Me Inc.
Reading Is Fundamental of Southern California improves literacy by helping children discover the magic of reading for fun.  Using a network of 6,000 volunteers at 300 sites throughout Greater Los Angeles, this year alone RIFSoCal will provide over 300,000 new, free books of choice, together with motivational reading activities, to build the home libraries of more than 100,000 children and their families. Carol Henault, RIFSoCal's Executive Director since October 2004, has been dedicated to the advancement of literacy throughout her 24 years in the nonprofit world. Under her leadership, RIFSoCal has nearly tripled in size!  As Los Angeles continues to face the strain of an economic downturn, Carol believes RIFSoCal's work to ensure that underserved children can continue to choose books to call their own is more important than ever.  "Inspiring children's passion for reading is the greatest gift we can give them on their personal road to success."  
Visit www.rifsocal.org to learn more.
This online magazine was created for expats living, working and playing in Yucatan, as well as those who wish to learn more about this unique state in southeast Mexico for vacation, investment and retirement plans.  In addition to advertising opportunities and always interesting articles and interviews, one will find a vast array of topics on (and links to) animal welfare organizations, children's welfare organizations and programs, the latest on local news and events, culture, food, businesses, real estate rentals, renovations and properties for sale, and hotels and B&B's. 
Founders and expats Ellen and James Fields ("Working Gringos" from California) and their talented and passionate team continue to publish a most informative, colorful and entertaining magazine with an ever-growing readership.  ¡Maravilloso!